When you're trying to find the right dating coach, there are some important things to take into consideration. As a dating coach myself, I work with a broad range of men throughout the world. I understand that the dating goals and roadblocks vary from person to person. And I also understand that to find the right dating coach, you need to be sure that they're able to tailor their coaching specifically to you. 
In this article, I'll help you find the right dating coach so that you can quickly reach your dating goals and ultimately find a compatible partner. But first, why is it important that you find the right dating coach?
Why You Should Find the Right Dating Coach
If you want to optimize your success in the world of romance, a dating coach could be the way to go. A qualified dating coach will:
Being held accountable is huge when it comes to dating and other areas of life where you hope to find success.
According to a study published in the Journal of Social Sciences, people who participated in exercises with other motivated people tended to have better results, as they tended to replicate the behaviors around them.
Another study published in the journal Obesity found that overweight people tended to lose more weight when spending time with their fit friends.
Basically, if you want to increase your chances of success, you should find a dating coach who keeps you accountable and is there for you every step of the way.
How to Find the Right Dating Coach Strategy #1: Make Sure They Have What You Want
When it comes to figuring out how to find the right dating coach, your personal wants and needs are top priority. If you're going to be spending money on a dating coach (or any tool for dating success, really) it's imperative that you make sure they have what you want. Most people who seek the advice of a dating coach are looking for satisfying long-term relationships that can lead to marriage. However, if you're just looking to hook up or casually date, that's more in the pickup artist niche.
When looking for a dating coach, find one that has managed to find and sustain love. If they have issues in the dating world and can't figure out how to attract a compatible partner, do you really think they can help you find someone?
When I first embarked on my 100-date experiment, I questioned whether or not love even existed. But after going on dates with 52 men (more on that in a bit), I ended the experiment with an incredible breadth of knowledge and a satisfying relationship. I met my boyfriend during the experiment and, seven years later, we're going strong.
If you want to find the right dating coach, choose one that has firsthand experience in making a relationship work if you want to find a compatible partner.
Strategy #2: Ask Yourself This Important Question
When you're trying to find a dating coach, ask yourself this important question: What is their philosophy of dating? Does it align with yours?
Do you want to find a serious relationship or are you interested in casually dating? Do you believe in soulmates? Is dating a necessary (and stressful) evil on the path to marriage? Is finding a partner the key to happiness?
It's important to learn what a dating coach's philosophy is. Moreover, it's important that you agree with their philosophy.
My Philosophy
When it comes to my personal dating philosophy, I believe that anyone can find love. Love exists for everyone. And you don't have to be rich or really, really, really ridiculously good-looking to find an amazing partner.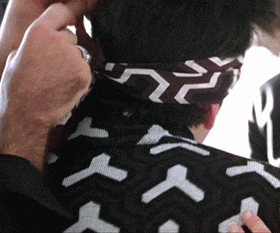 I think it's important to date in a way that helps you find the perfect partner while also attending to your health and overall wellness. One of the main dating strategies I recommend to my clients (and what is also the EmLovz mantra) is MegaDating.
What is MegaDating
MegaDating is the main dating strategy I used during my 100-date experiment. It is a dating process that involves going on dates with several different people at the same time by keeping your social calendar full.
MegaDating is not about sleeping around or being a big player. In fact, I highly recommend against physical intimacy until at least the third date.
The purpose of MegaDating is to give you tons of practice in the dating world. By dating multiple people concurrently, you see that there truly are a lot of fish in the sea and you can compare them with each other in a short period of time. This prevents you from getting hung up on the concept of "the one," which can leave you pining after one person and chasing them, only to see the relationship devolve into nothing.
When you MegaDate, you avoid settling for the mediocre. This dating method also offers these benefits:
All of this sets you on a path to finding a long-term, satisfying relationship.
MegaDate to Win on a Budget
You may be wondering how you can MegaDate successfully without breaking the bank. Don't worry. I've got you covered.
It's easy to date several different people at once without ruining your credit score by following my EmLovz dating blueprint for the first three dates:
Using this dating blueprint, it's easy to sweep a woman off her feet by taking her on compelling dates even if you have a tight budget.
Use a TDL
When it comes to optimizing your success with my dating blueprint, be sure to craft compelling date ideas that have a clear TDL.
A TDL is what we here at EmLovz use to refer to a date's call-to-action. It stands for time, date, and location.
When you ask a girl out, you want to have a clear schedule in mind in order to take the guesswork out of when, where and how. Women will appreciate your initiative and great planning. Moreover, the fact that you took time to create a specific date plan shows that you are considerate of her and have payed attention to her interests.
Learn more about crafting a compelling date idea with a clear TDL by reading my article, How to Get a Second Date With a Girl By Making It Incredibly Compelling.
When you are looking to find the right dating coach, be sure that they have a number of strategies like this to take the guesswork out of planning an awesome date.
Strategy #3: Find a Dating Coach who Measures Success
When trying to find a dating coach, ask yourself: What are their learning outcomes? A quality dating coach should offer specific tools that allow for scalable success. My 100-date experiment was successful because that's what it was — an experiment. 
I tracked all of my progress, took copious notes and utilized different strategies that could easily be measured, assessed and altered accordingly.
When you hire a dating coach, they should work with you on different goals and create an action plan to help you track your success. This should allow you to reach your desired outcomes much faster.
Strategy #4: Find a Dating Coach Who Keeps Up on Trends
I've been in a relationship for years now. But as a dating coach, I still need to keep up with the ever-changing dating landscape. That's why I continue to research and even use myself as a guinea pig when it comes to things like online dating.
For example, I recently conducted an in-depth review of the increasingly popular dating app, Coffee Meets Bagel. This app, along with some other free dating sites and apps, didn't exist when I was conducting my 100-date experiment. Thus, I make sure to fully investigate any new dating technology and use my research to help clients apply expert strategies to their dating ventures. Here's some more examples of my work:
I also connect with experts in the dating business and psychology field in order to consistently expand my knowledge on the best ways to coach my clients in a holistic way that encourages overall wellness.
Find the Right Dating Coach Today!
If you're looking for a dating coach who offers expert strategies on attracting a compatible, long-term partner, I can help you. Head over to my calendar and book a new client 1-on-1 Skype session with me today! During our session, I will help you create an action plan that will help you overcome your dating roadblocks and achieve your goals.
This action plan will set you on a path that attracts gorgeous, high-value women and keeps you out of the friendzone for good!
Need help with the complex world of online dating? I've got you covered.
During my 100-date experiment, I analyzed thousands of male dating profiles. I know what works and what doesn't. My Dating Profile Services can help you turn online connections into lasting love. These services will quickly improve the number of responses to your outgoing messages, the number of incoming messages you receive, your overall profile views, and more.
Finally, check out my comprehensive online dating course for men. Designed for high-achieving men, you'll know exactly what to do on your dates, step-by-step, to attract the perfect girlfriend or wife that you've always wanted.
Images: Giphy (1)