"Thank God that's over!" This was the phrase I yelled after Colton Underwood and Tia Booth finally (FINALLY) exited Bachelor in Paradise. After weeks and weeks of the will-they-or-won't-they Colton/Tia storyline that nobody asked for came to a close, I felt at ease.
"Finally," I thought to myself, "I can enjoy this show for what it was always meant to be: a trainwreck fueled by tequila and tears, drunken fights, all the words that come out of Jordan's mouth, and Grocery Store Joe."
My relief was short-lived. It wasn't long before Good Morning America announced who would be the new star of the season 23 of The Bachelor. After insulting everyone's intelligence with this silhouette, new Bachelor Colton took the stage. And I'm just like…
Remember These Guys?
If you're like me (and the rest of America), you were probably expecting ABC to choose Jason Tartick as the new Bachelor. Along with being one of my many future ex-husbands, he was basically the frontrunner when it came to choosing a season 23 lead. Case in point:
Former Bachelorette Becca Kufrin said he was her top pick

He was arguably the most hyped former contestant on social media

Every freaking online poll I took asking who I wanted to be the next Bachelor showed that a majority of viewers wanted Jason as the next Bachelor

He was even approached to be the next Bachelor before GOD KNOWS WHAT someone said in a meeting and everything changed
And even if Jason wasn't going to be picked as the next Bachelor, have you heard of Wills Reid, ABC? Or Grocery Store Joe (*cough* especially Grocery Store Joe *cough*)?
Or what about Blake Horstmann? I'm pretty sure that towel he left sopping wet with his tears after Becca dumped him on the Bachelorette finale has dried by now.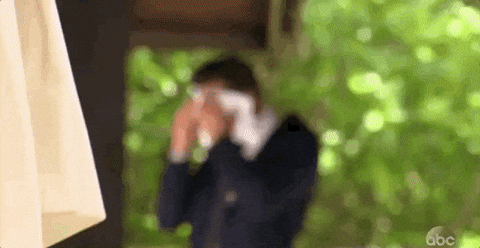 Yes, he was heartbroken, but I'm betting he's ready to get back out there. Seriously, that guy wants a wife like I want this damn East Coast humidity to come to a grinding halt.
(See you in November, Los Angeles! #RelocationFTW)
Why did ABC Pick Colton as the New Bachelor?
Uuuugggghhh. It depends on who you ask.
According to E!, a source has leaked that producers thought Colton was a "safe pick" and represents "wholesome middle America." The fact that Colton has been vocal about his virginity also may have led producers to upgrade contestant Colton to Bachelor Colton.
The source went on to note that producers wanted someone with the "sincerest intentions" after the controversial preceding seasons helmed by Arie Luyendyk Jr. and Nick Viall.
(Although I agree Arie sucked, why hate on my baby Nick? I love that guy and everything about The Bad Chiller. LEAVE MY BOY ALONE!)
My Issue with Bachelor Colton
Look.
I don't hate Colton. I don't even dislike the guy. But he's been a polarizing figure in Bachelor Nation for a reason.
He hung out with Tia for a hot second before his appearance on the Bachelorette. And that second must have been really, really hot (albeit without any type of vaginal intercourse) since Tia basically went into heat every time she saw him.
So much so, that she basically tried to make Becca's relationship with Colton implode when she showed up close to the finale to reveal that she still had feelings for him, even though she denied said feelings early in the season.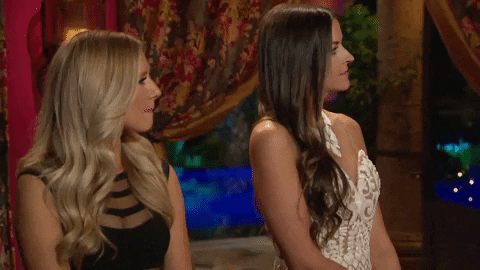 The Tia relationship made Colton's intentions seem suspect, which soured any type of consequent shipping over the Tia/Colton relationship once they both appeared on Bachelor in Paradise.
But just like Gretchen Wieners wanted everyone to hop aboard the "fetch" train, several episodes of BIP were an aggressive push to make fans swoon over Tia and Colton like they were the new Ross and Rachel or something.
"Stop trying to make Tia and Colton happen, ABC! It's not going to happen!" I yelled every Monday night to no one in particular.
When Colton and Tia finally broke up after a drawn-out relationship-that-should-have-never-been, I was ready for a detox.
And now Colton is set to become Bachelor Colton.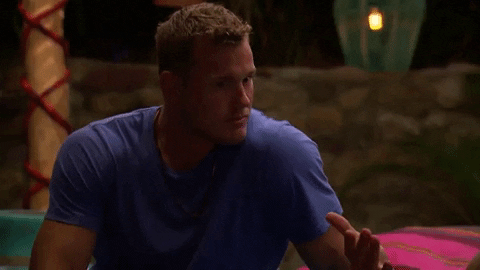 I'm just kind of Colton-ed out at this point — and so are a lot of members of Bachelor Nation.
Nevertheless, I like to stay an optimist in spite of my snark.
And, yes, I will be watching Colton's season of the Bachelor.
However, if Colton wants to upend our expectations of him, enjoy a successful and entertaining season, and even — GASP — find true love at the end of it, I'd advise him to do the following things.
Tip #1: Don't Cry So Much
I know. I sound harsh, right?
Look, I'm all for not stifling your emotions. And allowing yourself to be vulnerable is essential when it comes to having a successful relationship and navigating your way through this tear-wrenching road known as adulthood.
But Colton cries A LOT.
To the point that I don't always trust it's genuine.
Granted, a lot of alcohol is distributed in this franchise, and I've been known to turn on the waterworks after a few vodka sodas. Most recently, it happened after a raucous night of karaoke when I stumbled out of my Uber into my apartment only to find that I didn't have any milk for my Honey Bunches of Oats®.
ANYWAY!
Basically, vulnerability is awesome, but remember not to sweat beer tears over the small stuff.
Tip #2: Don't String Women Along
Although I doubt it was intentional (based on all the damn teeeeaaaarrrsss), Colton and Tia's relationship on BIP came off as a classic case of breadcrumbing.
If you're not into someone, you're not into them. Cut them loose (unless, of course, they are a female version of Jordan and need to stay purely for entertainment).
Whether or not your intentions are good, you look like a jerk when you choose to go back-and-forth on a relationship with someone and drag out a pseudo-relationship with someone you don't like.
Tip #3: Don't Let Women Verbally Beat You Into Dating Them
Here's the thing about the whole Tia/Colton relationship…
It was a classic case of he's just not that into you from the very start.
I knew it. Colton knew it. Bachelor Nation and the entire universe knew it.
But somehow Tia was able to make Colton her boyfriend by verbally wearing him down. Now Bachelor Colton will be facing a throng women who are all competing to make him not just their boyfriend, but their husband.
You can't be a doormat in that type of situation. If you're not that into a woman, cut her loose.
Tip #4: Don't Make Your Virginity the Centerpiece
When the time comes for fantasy suites, taking your V-card into consideration is appropriate. And, moreover, that high stakes time is one of the few instances I as a viewer will be on the edge of my seat when it comes to your virginity.
But for God sakes, the focus on Colton's virginity reached a point of excess long ago.
I applaud him for owning it and making a point to let others know that he understands what it feels like to be judged. If you can use your public platform to inspire others to own their truth, that's always a good thing.
Honestly, though, I think we can all agree that Colton's virginity is not a big deal. It's not something to judge someone for.
From start to finish, Becca made a point to mention her crushing breakup with Arie. She mentioned it to the point of exhaust.
Remember how that got really old really fast, Colton?
I rest my case.
Tip #5: Show Off Your Sense of Humor
If you take a look at Colton's social media, you'll notice that this guy actually has a great sense of humor. Shocking, right?
How often did we get to see Colton cracking jokes or goofing around on Bachelorette and BIP? If you guessed next to never, you'd be right.
Humor is an extremely endearing quality. It's going to help Bachelor Colton win audiences over and it's also going to help him connect with female contenders.
Tip #6: Bring a Parade of Puppies
Colton's social media is constantly littered with puppies, and I agree with everything about this. Despite all my qualms with a Bachelor Colton season, there are some things that I have always liked about him:
He owns a nonprofit

He LOVES dogs
If there's one thing that can make a season go from "ugh" to "YAAASS" it's puppies…lots and lots of puppies…
So let's include plenty of pups in this season, ok? Please and thank you.
That's all I've got, for now, fam. Let's cross our fingers that this season won't make us all question our choices in escapism.
Xoxo!